Microsoft Excel has been around for decades but Microsoft continues to roll out new features to enhance its software. Today, I'll cover three recently released features that you need to know to be a more efficient Excel user.
1. A new shortcut that allows you to paste values
If you're copying and pasting values in Excel and just want to paste the values, up until now, you've had to take the extra step of right-clicking and selecting values.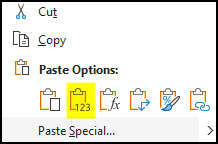 Although that doesn't add a whole lot of time to the process, if there's a more efficient way to do something, that's what this website is all about. And the new way to copy as values requires just using the shortcut of CTRL+SHIFT+V when pasting. Whether you're copying values from a website and don't want to include formatting, or if you just want to copy a value from another cell and don't want the formatting or formula, this new shortcut will be what you want to use.
2. The ability to search right from a menu
When Excel added the Ribbon, it grouped commands into different tabs. That can make it difficult to sometimes find commands because if you're not on the right tab, you have to first navigate there before finding the command you want. One way around this has been to use the Quick Access Toolbar, where you can save your frequently used commands.
But even that isn't ideal because you can't add everything in there. The good news is that Excel has now added a search feature right into the default right-click menu. Simply right-click anywhere on your worksheet and you'll now see a place to search for commands and functions:
3. An image function that allows you to pull in images from a URL
A new function that you can make use of in Excel will make it easier to load images into your spreadsheet. Rather than saving them and then uploading them into your workbook, all you need now is just the URL to the image you want to use. Then, within the new IMAGE function, just enter the URL in the first argument within quotation marks.
You can also specify an alt text and indicate whether you want the images to fit or fill the cell, or if you want to apply a custom height and width. In the below example, I use a URL that points to Netflix's logo and have it fill in the cell. And as the cell expands, so too does the image:
Don't have these options? Join the Office Insider program
These are the latest and greatest Excel features and so if you don't have them and you're using Microsoft 365, make sure you sign up for the Office Insider program. Through that program, you will have access to the newest features before the general public. Once joining, it may take a few days before you get the updates and start to see these features.
---
If you like this post on 3 New Excel Features You Need to Know in November 2022, please give this site a like on Facebook and also be sure to check out some of the many templates that we have available for download. You can also follow us on Twitter and YouTube.