For a limited time, I have a free stock trading template that is available for you to download in Excel. If you buy and sell stocks often, this is a template that will help you easily enter in your trades and track your performance.
How to use the template
There are three main buttons on this template that you will need to use, all of which are located within the ribbon, under the Trading Journal group:

The Enter Transaction button will allow you to post and trades you make. Clicking on it will show the following pop up: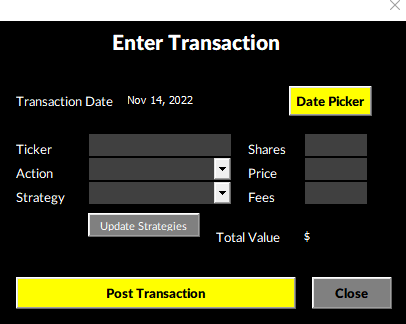 At the very top there is a Date Picker button which will allow you to select the date of the transaction, rather than manually entering it. Here is an overview of the other fields;
Ticker: this is simply the name of the stock you are buying.
Action: indicate whether you are buying, selling, or adding to an existing position.
Strategy: select your strategy for this transaction. If you want to add or remove available strategies, click on the Update Strategies button.
Shares this is the number of shares you are buying or selling.
Price: this is the price per share for the transaction.
Fees: the amount of any fees you have incurred on the transaction.
Once all this is entered, click on the button to Post Transaction and the details of the transaction will be posted to the Log sheet and an entry will be opened up on the Transactions tab. The Transactions tab will show you a summary of your positions, including any profits and losses, and whether they are open or closed.
There is a Settings tab where you can manually adjust strategies. You can also specify different holding categories should you want to track that (e.g. what constitutes a short, medium, or long holding period).
Once you've entered some transactions, you can head over to the Summary tab which will give you a visual breakdown of your investments. To be sure the data is updated correctly, click on the Refresh button in the ribbon button (not the default refresh option in Excel).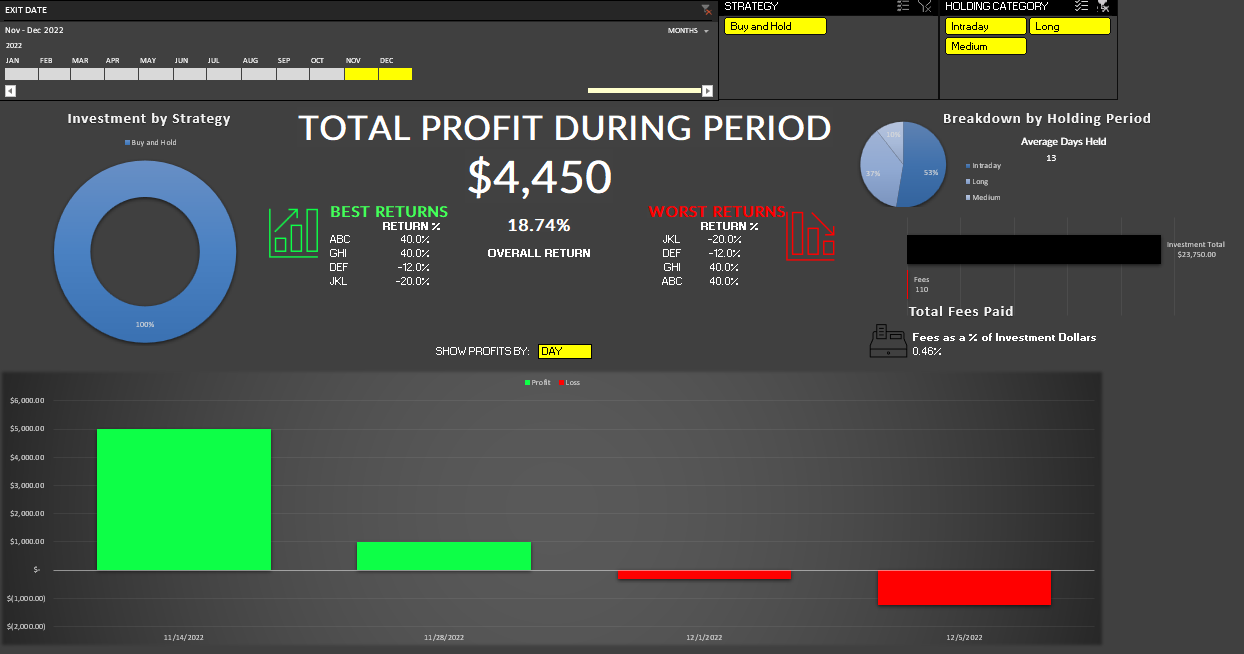 You can use slicers in the report to filter by different dates, strategies, and holding periods.
You can download the Stock Trading Template here.
---
If you like this Stock Trading and Tracking Template, please give this site a like on Facebook and also be sure to check out some of the many templates that we have available for download. You can also follow us on Twitter and YouTube.