Unfortunately, there's no Excel formula that can add stock quotes for you. However, there is a workaround for that which can help you get what you're after. In a previous post, I covered how to pull stock quotes using Google Sheets which is able to pull in prices and all sorts of other data. And in this post, I'll show you how to get the data from Google Sheets into Excel.
In essence, Google Sheets is your data source or database, and you're going to import that into Excel. It's not specific to stock quotes, but it's an example of how you can accomplish the same thing. So first up, you want to create your file in Google Sheets using that earlier post as a guide. Here's an excerpt of what my file looks like in Google Sheets: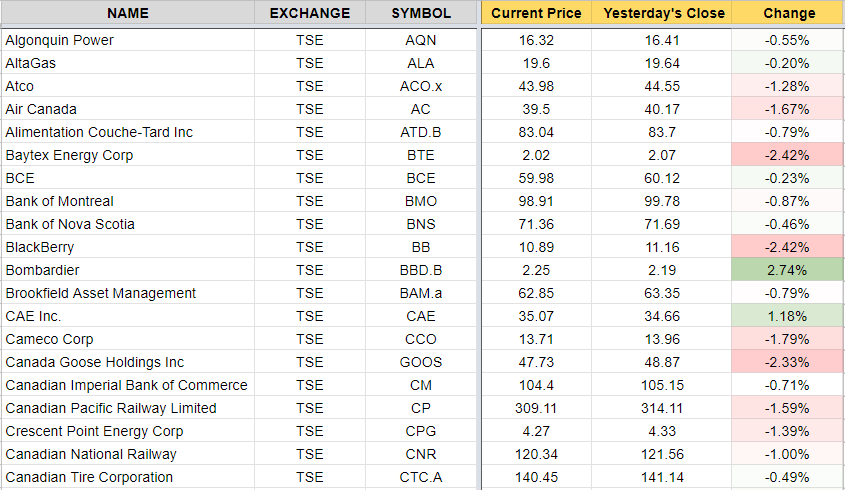 Once you're ready, it's time to link your Excel file to that Google Sheets file, and here's how to do that:
How to Link Google Sheets to Excel
On the File menu, click on the button to Publish to the web
On the next screen, you should see something like this: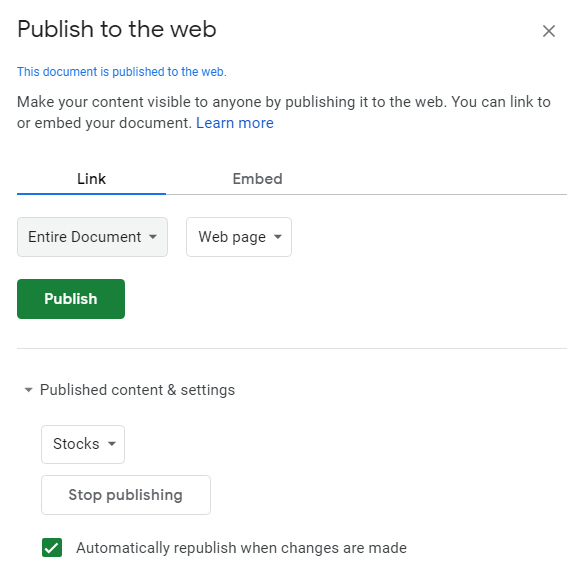 2. Select the tab that you want to export under the Link section and change Web page to Comma-separated values (.csv) and click on the Publish button, that will generate a URL: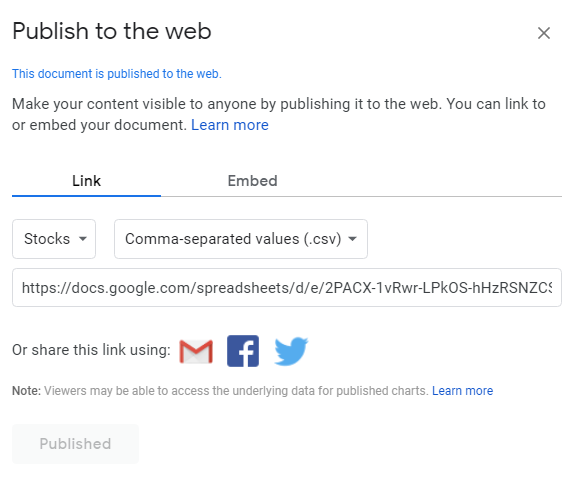 3. Copy the URL that was generated in Step 2 and go back into Excel and under the Data tab click on the From Web button which is in the Get & Transform Data section

Paste it into the next screen's URL field and click OK

On the next page you should see a preview of your data and if it looks okay then click on the Load button.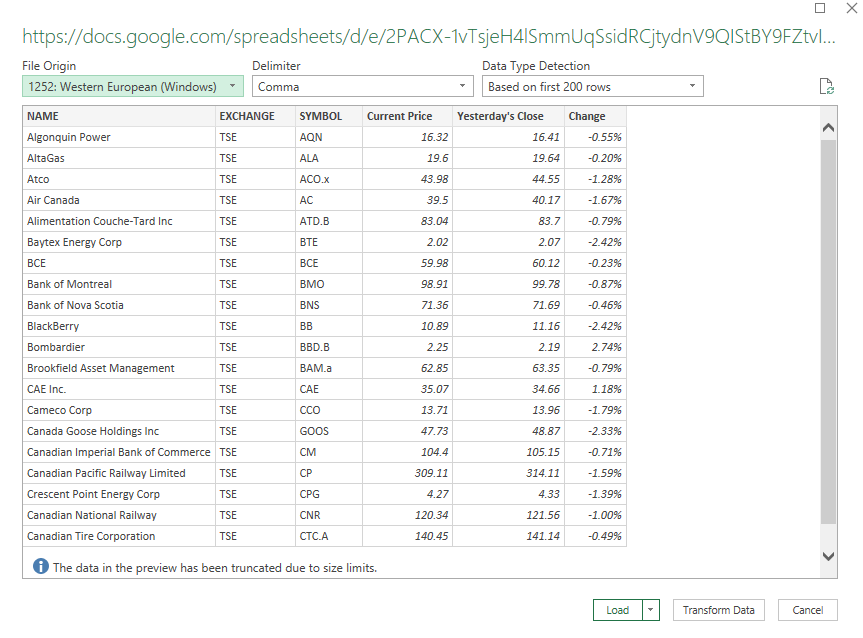 What you should see afterwards is what was on your Google Sheets tab from earlier: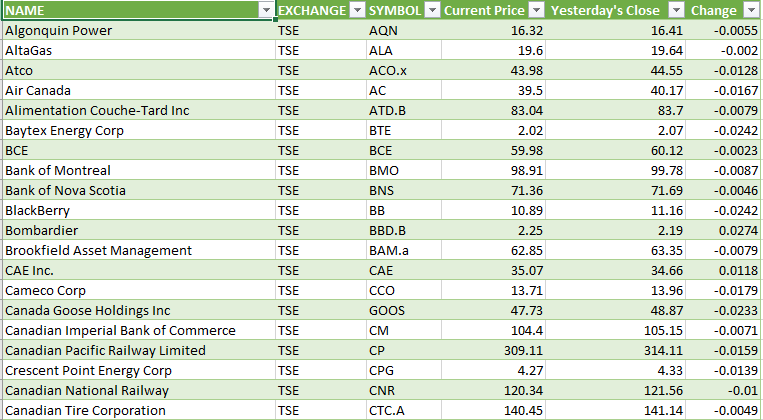 And there you have it, your data from Google Sheets linked into Excel. If you make changes to your Google Sheets file, or if you want to refresh the stock quotes, right-click anywhere in the Excel sheet and select Refresh. Note that sometimes it may take some time before the file is updated on Google Sheets and before you'll see any changes that you have made to the file.
It may not be an ideal solution if you're looking to get stock quotes, but it gets the job done and avoids you having to try and find a complex formula or macro to pull the data that you want. You can use the Excel sheet with your Google Sheets data as a database and then lookup the stock prices from another sheet. The benefit of using Google Sheets is that you can have the best of both worlds – putting data online that you can easily update, and not be limited to Google Sheets and be able to edit and manipulate it as you need to in Excel.
Word of caution: if you delete or move around data in Google Sheets it could cause issues, especially if columns are missing and when you go to refresh it cannot find them anymore. If there is an error as a result of it or if you need to change the source, you'll want to edit the query. When you click on the data in Excel you should see a section for Queries & Connections where you can edit the query. This is where you can select which data you want to include as well as change the source that you are pulling from. However, if it may be easier to just re-publish the data.
---
If you liked this post on How to Add Stock Quotes Into Your Excel Spreadsheet, please give this site a like on Facebook and also be sure to check out some of the many templates that we have available for download. You can also follow us on Twitter and YouTube.