There are many Excel calendars online but with this template, you can customize it to suit your needs and use the calendar for more than just one year.
At a minimum, you can use the template to help generate a 12-month calendar for a specific year. However, it can do a whole lot more than that. If you want to use it for a custom fiscal year, you can use a different start date. You can also use custom accounting periods based on weeks, whether it's the 4-4-5, 4-5-4, or 5-4-4. It can help make a template that will fit all of those needs.
And on top of that, you can also highlight holidays and deadlines on the calendar to make it easy to keep track of all your important dates.
How the template works
There are two tabs on the calendar template: calendar and setup. The only area to enter data is on the setup tab, and that's where you will select the details relating to how you want your calendar to display.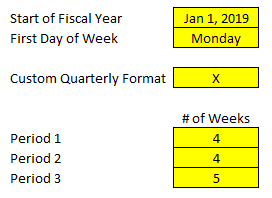 The first item that you'll want to enter is the start of the fiscal year. If you just want a regular calendar, then you can leave this as January 1. However, you'll want to enter the year that you want the calendar for as well. This is the only cell where you'll specify both the year for the calendar and the first day of the calendar as well.
On the following field, you can toggle between whether your week starts on Sunday or Monday. This will just impact how the calendar looks and will have no effect on anything else in the template.
If you just need a regular 12-month calendar, that's all you need. If, however, you're looking for a more customized format that accommodates a varying week schedule, then you will want to enter an 'X' in the Custom Quarterly Format field. If you do not enter an 'X' here, then the following values will be ignored and won't have a bearing on the calendar.
The next three fields relate to how many weeks each period has. If you have fiscal periods that follow the 4-4-5 pattern where the third month of each quarter is a 5-week month, then you would enter '4' for period 1 and period 2, and '5' for period 3.
Those are all the variables that will relate to the structure of the calendar itself. You can go a bit further, however, and enter in holidays and other important dates as well.
Entering holidays and other dates
In column G you can enter the holidays or non-working days that you observe. Any dates in this column will be highlighted in yellow on the calendar. Columns H and I serve the same purpose, and that's to highlight any important dates or deadlines. In column H, the dates will be highlighted in red while the ones in column I will be in green.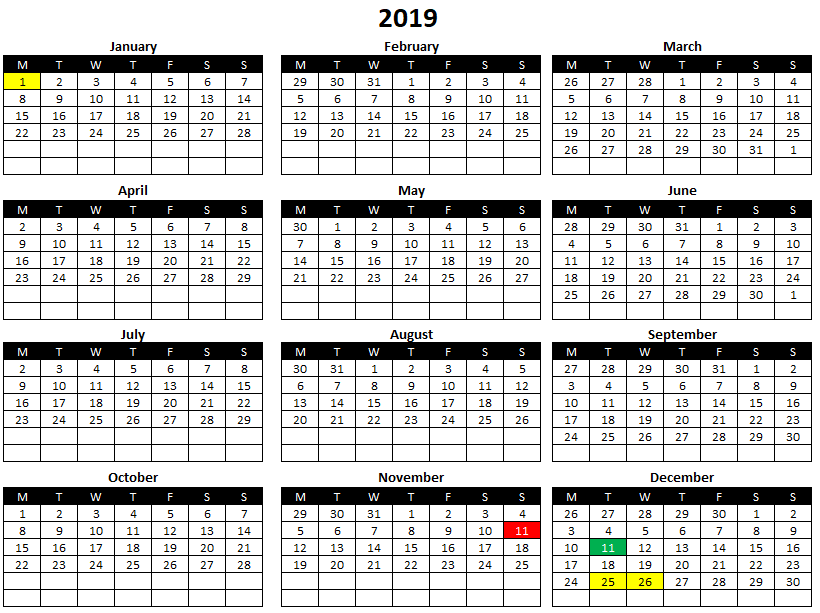 There's no restriction on what you can enter in these columns and these deadlines could be annual or monthly. You could even use various date functions to help create recurring deadlines here as well.
You can enter dates in for the entire column so they don't even need to be for the current year. This is why you can reuse this template for future years, as you can just adjust the starting date for the year and update the holidays, and the template will automatically update based on what you have entered.
Download the 12-month excel calendar template
This template contains no macros and is free to use. You can download it here. It does have some ads and the calendar tab is locked to ensure nothing isn't overwritten by accident. There is also an ad-free version available here that is completely unlocked. As always, I encourage you to always try the free version first to ensure it works how you expect it to and that it's what you're looking for.
Looking for a full-month calendar template?
This template is for a 12-month snapshot but if you're looking for one that focuses on an individual month and that can allow you to enter tasks and deadlines, be sure to check out this template. It will give you even more options for managing your monthly tasks and deadlines.
And if you're looking for a personal calendar that will help you manage different goals at once, then this goal tracker template could be what you're looking for. But if you're looking for something completely different, feel free to contact me and make a suggestion. I am always looking for new ideas and templates to add to the site.
---
If you liked this 12 Month Calendar Template, please give this site a like on Facebook and also be sure to check out some of the many templates that we have available for download. You can also follow us on Twitter and YouTube.