Whether you're trying to lose weight or wanting to learn a new skill, sometimes it can be challenging to stay on top of those goals. One way to you can make that easier with this goal tracker template. It'll allow you to keep a record of how you've done versus your goals and show you the progress you've been making. Just being able to see that progress can sometimes help encourage you to keep working at it, and this template will do just that.
The spreadsheet has two tabs: the calendar where you can select the month and year, and the data entry tab where you'll enter your progress. Let's start with the data entry since that is going to be where you make any changes and will serve as a starting point.
Setting Up Your Goals and Entering the Data
On the DATA.ENTRY tab, the first three rows are dedicated to the name of your goal, the frequency of it, and your desired target. The goal name is straightforward and doesn't impact anything but what you'll refer to it going forward. This can be changed at any point.
The second row is the frequency, and here you can enter either Weekly, Monthy or Daily. They'll track your totals accordingly and which frequency you select will determine how the calendar will highlight your progress. As soon as you hit a goal that's set to monthly, the spreadsheet will highlight the entire month in green to indicate that the goal has been met: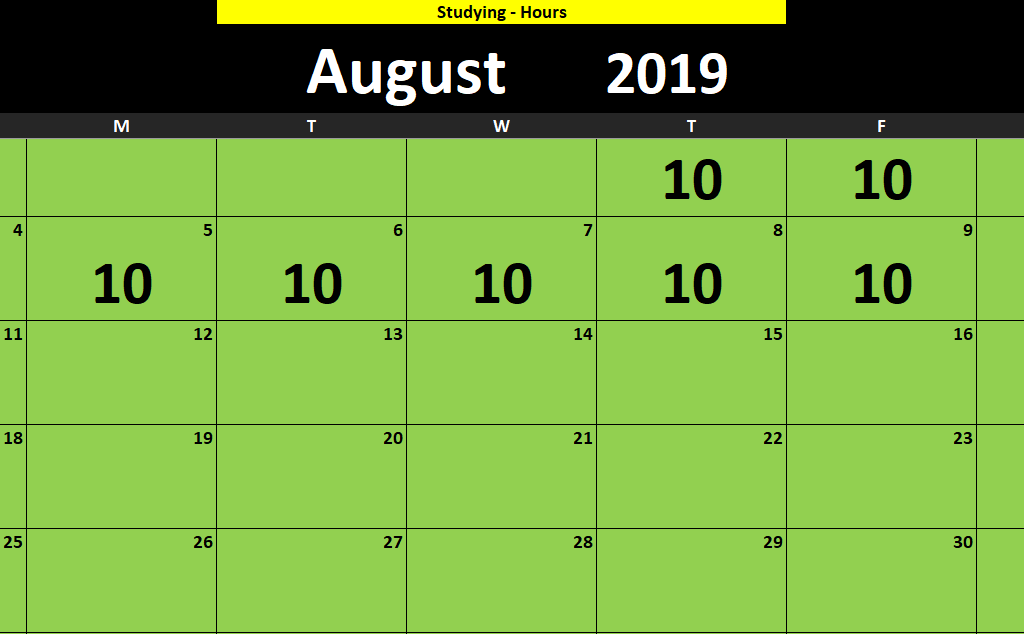 If it's a weekly target, then only the week the goal was met will be highlighted:
Daily targets will only be highlighted one day at a time.
The third row on the data entry tab relates to the actual goal number itself. In my example, I've put 500 for the weekly amount of calories burned and 100 studying hours in a month. These are the metrics that will be tracked. They will reset each period as well so if 400 calories were burned in a week, that week won't highlight in green. But if on the following week 500 are burned, then it will highlight that week.
For daily goals, no goal amount needs to be entered. You've either met the goal or not for that day, and avoiding numerical totals here will allow you just to mark an 'X' on whether you were on track for that day. This can be useful if it relates to a task that might not have a numerical value. It'll also allow you to create a chain of X's like the method made popular by Jerry Seinfeld.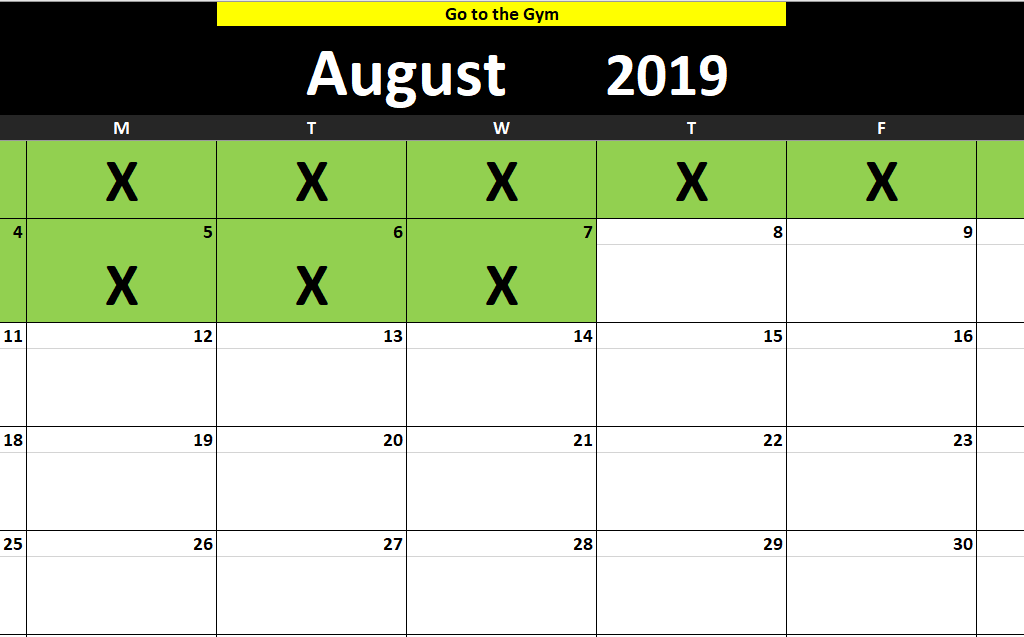 This way, you're not limited to trying to assign a number to every goal. If you do have a numerical goal for every day, you can simply convert that into a weekly or monthly total. The only impact there will be when the cells will be highlighted.
There's no limit to the number of goals that you can have so you can have a mix of monthly, weekly and daily goals to suit your needs.
For the actual data entry itself, I've pre-populated a date of July 28 but you can certainly change that to a different start date. The data entry tab will auto-populate the next 365 days for you. However, you can certainly extend beyond that as well.
Once you've got your start date, you can start entering in your data. Just look for the date and goal name (top row) to make sure you're entering it in the correct cell. For daily goals, simply mark an 'X' to indicate they were met. For weekly and monthly targets, enter a number.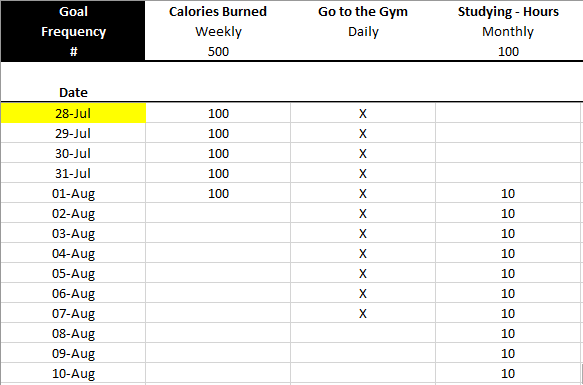 The Goal Tracker Calendar
Once you've got your goals set up and your data entered, you can switch over to the GOAL.CALENDAR tab. Here, you can change the month and year that you want to look at, and select the goal as well, from the yellow drop-down directly above the date.
Once you've selected the goal, it'll highlight whatever progress you've made. For daily goals, it'll show any X's, which will automatically be highlighted in green. For other frequencies, you'll see the actual numbers themselves so you'll see how you've done on each day.
You'll notice that the calendar for August won't start on August 1 but on the first day of that week. The purpose of this is to track those weekly goals as otherwise part of the week will be cut off and could appear like a goal wasn't reached.
You can download the template here.
If you like this Monthly Goal Tracker Template, please give this site a like on Facebook and also be sure to check out some of the many templates that we have available for download. You can also follow us on Twitter and YouTube.