QuickBooks does a good job when it comes to recording sales and doing day-to-day accounting tasks. You may be content with the reports that come out of QuickBooks, too. But if you're looking for some more in-depth analysis to do of your own or to make your own reports, you're likely going to want to move that data into Excel. And, unfortunately, the QuickBooks export into Excel can be less than optimal.
With many spaces, subtotals, and a non-tabular format, it's not a very practical output to use in Excel. If you want to run a pivot table and do some serious analysis in Excel, you first have to clean up the data before being able to use it, and that can be a very tedious and tiresome process.
For example, this is what your QuickBooks report might look like when you're pulling a simple summary of your customer sales: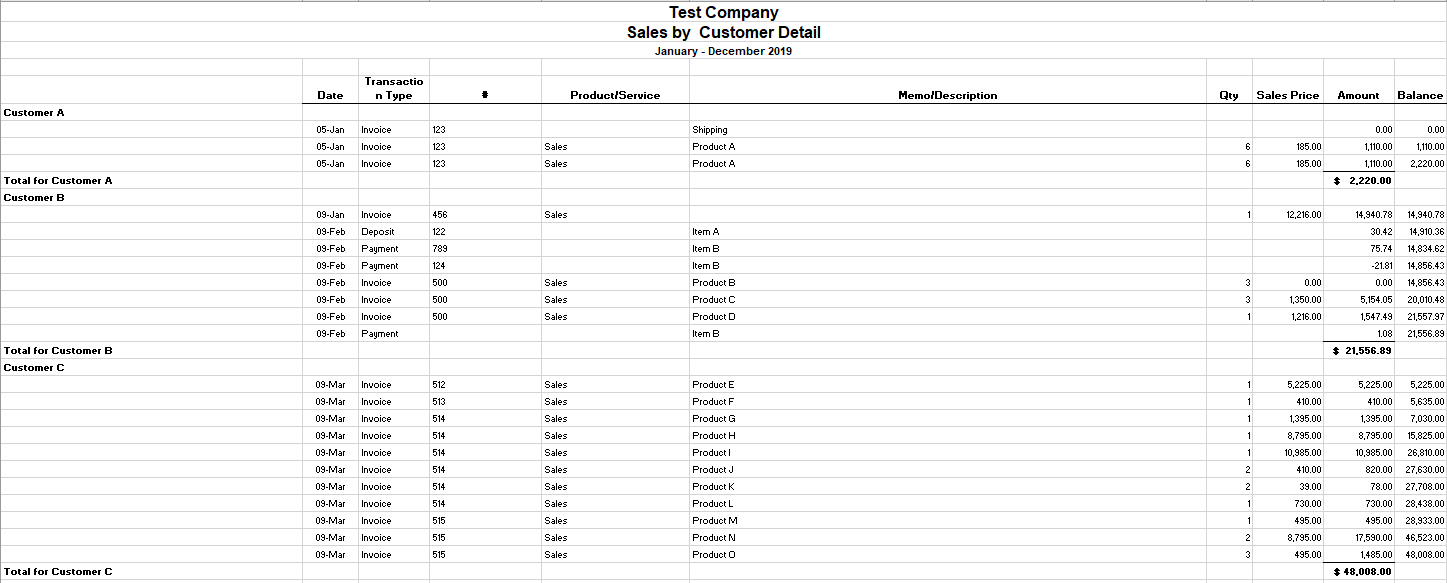 There are a lot of things that need to be adjusted for this report to be useable in Excel, including getting rid of the blank spaces and ensuring that the customer information is repeated in the first column, as opposed to just in the first line and in the last line's total. From afar, it's a bit of a painful process to have to go in and clean this up. And while it's not impossible, it's not going to be quick, either.
That's where a macro can help you make the task much quicker and it will save you a lot of time if you have to go through these steps often. Click the button on the ribbon and your data will convert into a more table-friendly format! Here's how it works:
Using the macro to fix the QuickBooks export
Before running the macro, you'll need to specify the columns where your customer names and dates are:

Then, run the Covert Data button:

Downloading the file
The free version of the QuickBooks macro will allow you to run the conversion if it doesn't go past 100 rows. However, if you decide to purchase the full version please ensure that the macro and file works as expected. There's no guarantee the QuickBooks export hasn't changed or won't change in the future. If there are changes that need to be made to the macro, please feel free to contact me so that I can make the necessary adjustments. Whether you prefer the add-In or the actual Excel spreadsheet itself, both versions are available both here and in the paid version as well.
Here is the download link for the add-in as well as the Excel file. For the paid versions, please visit the product page.
If you have another program or software that you'd like a similar add-in for, I can help with that as well.
---
If you liked this post, please give this site a like on Facebook and also be sure to check out some of the many templates that we have available for download. You can also follow us on Twitter and YouTube.