Nowadays, everything is available on a subscription. Even BMW now offers heated seats on a recurring subscription. It can be a challenge to keep on track of all your subscriptions, including when they renew and when trials end. However, I have a free template just for these purposes. With my free template, you can stay on top of your subscriptions and see just how much you are spending on them on a monthly and annual basis.
How the subscription manager template works
This template has no macros and is designed to be easy to update and track. Here's how it looks: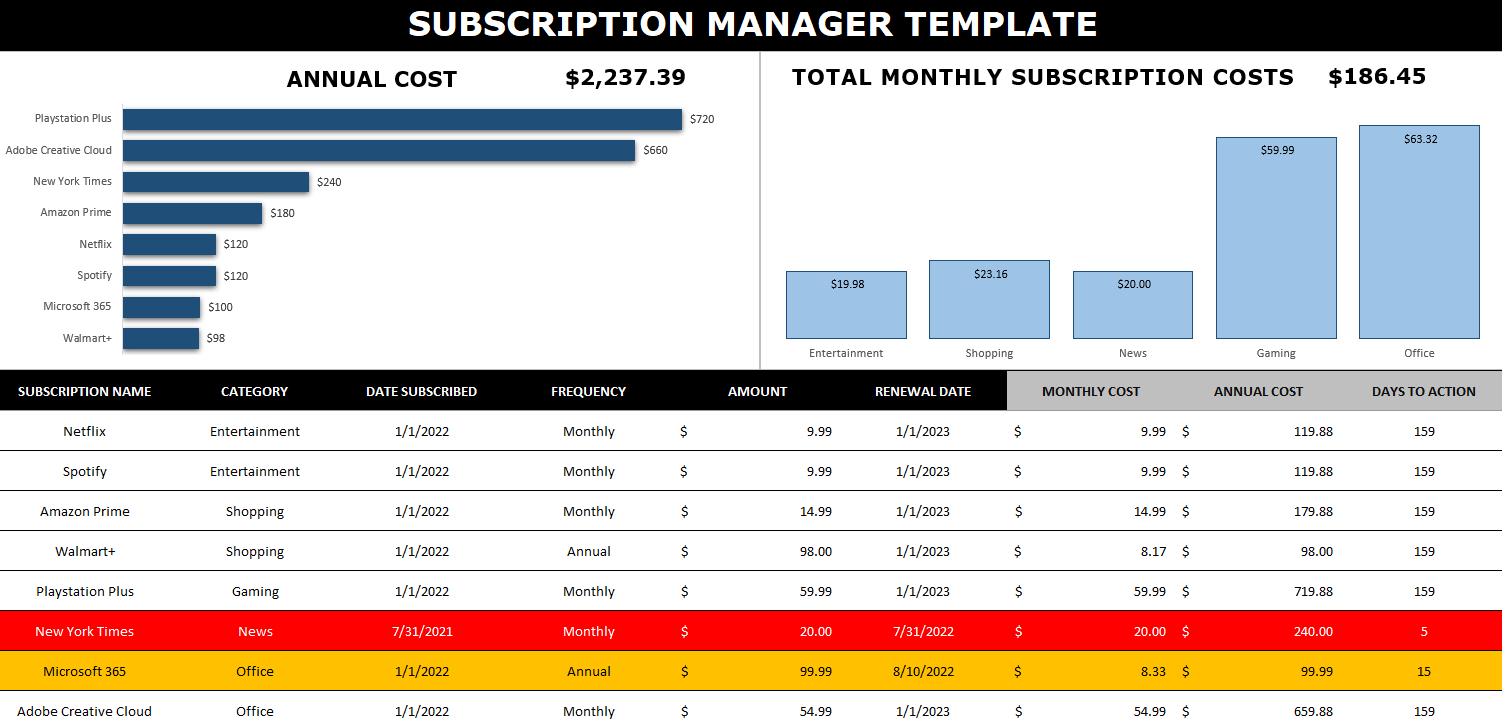 There are multiple charts to show you the annualized cost of your subscriptions and the monthly cost (which is shown by category). This can be effective for budgeting purposes to know how much all of these subscriptions are costing you.
To add a subscription, simply add it to the bottom of the table. You can enter a category name, a frequency, amount, as well as subscription and renewal dates. The columns that have headers highlighted in grey don't need to be updated as there are formulas there. This is where the amounts for the monthly and annual costs get calculated. Whether your subscription is paid monthly or annually, these columns will work out the calculation to determine what it costs you both on an monthly and annual basis. That way, you don't need to worry about grouping monthly and annual subscriptions separately.
There's also another column called Days to Action — this will calculate the days between today's date and the renewal date. It will highlight in yellow when you are within 30 days of the renewal date, and it will turn red when you're within two weeks of it. The point here is to give you a warning that a renewal is coming up (or a trial is ending). This can help you prevent forgetting about it and incurring a surprise fee. If you don't care to track this, you can just leave the renewal date blank.
Updating the data in the template
When you enter a new line for a subscription or want to make modifications to one, the charts won't automatically update as there are no macros within the file. In order to trigger an update, go to the Data tab and click on the Refresh All button. Upon doing so, your charts will be updated.
If you want to remove a subscription, simply right-click on the row and delete it. If you're within the table, then while you're on the row, right-click and select Delete. You'll see an option to remove Table Rows. Either method will work fine.
Download the subscription manager template
The subscription manager template is available here
---
If you like the Subscription Manager Template, please give this site a like on Facebook and also be sure to check out some of the many templates that we have available for download. You can also follow us on Twitter and YouTube.